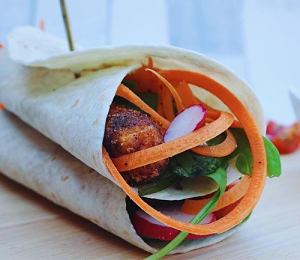 This recipe is an absolute cracker and takes no time at all to make. It's simple, tasty and a winner all round. Crispy, smokey tofu is fabulous and can used in other dishes. All ingredients are plant-based and vegan. Choose you own fillings and let guests make their own wraps with these. 
Serves: Makes 6 wraps
Time to Make (including oven time): 30 minutes
Storage instructions: Eat immediately hot or cold. Eat within 4 days.
Gluten-free  Dairy-free  Vegan
Ingredients:
• 200g (7oz) Firm Tofu
• 50g (1.75oz) Coconut Flour (Brown Rice Flour also works)
• 6 tbsp Real Good BBQ Sauce or Real Good Tomato Ketchup (or blend of both)
• 2 Carrots, spiralised
• 1 Bag of Fresh Spinach
• Handful of radishes, sliced
• Beetroot and mint dip to serve, see burger page for recipe
• 6 gluten free wraps
Method:
1. Preheat a frying pan with coconut oil.
2. Place the flour and ketchup in 2 separate bowls with low rims. Chop the tofu up into cubes and dip each piece of tofu in the BBQ Sauce, followed by rolling in the flour. Repeat again with each piece of tofu to give a thick coating.
3. Lightly frying the coated tofu in the frying pan until crispy and slightly golden. You may need to add a bit more oil to the pan half way through.
4. Leave to cool for a few minutes.
5. Layer the ingredients into the wraps and serve with the dip.
Serving Suggestions:
This delicious recipe is great for people that love to make their own dishes. Lay out the ingredients on the table and let guests make their own creation with the fillings. It's gluten free, dairy free and vegan. This dish also goes perfectly alongside the burger recipe and beetroot and mint dip !
Created by Beth Heddle and Real Good Ketchup