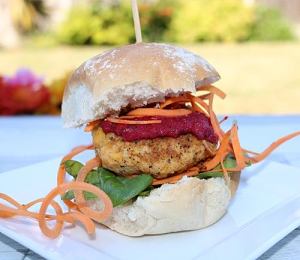 These Smokey Chickpea burgers are a delicious alternative to serve at your next barbecue. Packed with herbs and our Real Good Smoked BBQ Sauce and Tomato Ketchup, these vegetarian burgers are THE perfect BBQ essential. Blow your friends away and whip these up with a refreshing mint and beetroot dip.
Serves: 4 at your barbecue
Time to Make (including oven time): 15-20 minutes
Storage instructions: Eat immediately or store in fridge for up to 48 hours
Gluten-free Dairy-free Vegan
Ingredients for the Burgers:
1 can of chickpeas (240g drained weight)
4 tbsp Real Good Tomato Ketchup and/or Real Good BBQ Sauce ( a mix is delicious ! )
2 crushed garlic cloves (optional)
1 tsp mixed herbs
2 tbsp coconut flour
Dash of water
Ingredients for the Beetroot Dip:
1 can cannellini beans
½ packet of cooked beetroot (without vinegar) (125g)
1 tbsp olive oil
1 clove garlic
½ lemon, zested
½ tsp mint leaves, crushed
Method:
To make the burgers, place the chickpeas in a blender with a dash of water and blend for a minute, not until smooth. Add in the remaining burger ingredients in a large mixing bowl together until combined. [Note; suggest not do this until smooth as the texture is better when lumps remain].
Scoop the mix into balls, shape into burgers with your hands. Lightly fry on the BBQ. If you'd prefer to fly these on the hob, be sure to use some coconut oil to reduce the chances of them sticking to the pan.
Whilst the burgers are cooking, place the dip ingredients into a blender and blend until smooth. Once the burgers have been cooked for 5 minutes or so add to buns and serve with the dip!
Serving Suggestions:
Decorate with raw carrot ribbons, salad, the beetroot dip and Real Good BBQ Sauce. For a traditional burger serve, pop into a roll of your choice, we have served in a gluten free Dr Schaer bun.
They'll go perfectly with any BBQ dish but paired with the beetroot dip you're sure to get some compliments.
Created by Beth Heddle with Real Good Ketchup