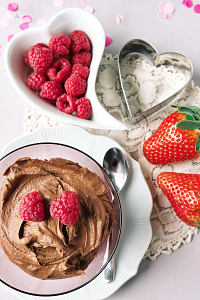 Chocolate desserts are always a winner with guests and having one that is allergen free is the perfect way to impress them. This one is dark chocolate all the way ! Why not make this and serve it with 2 or 3 different toppings ? It is a not too sweet and divine dessert – delicious at any occasion.
Serves: 6 delicious servings
Time to Make (including oven time): 30 minutes
Storage instructions: Eat immediately cold. Eat within 4 days, refrigerated.
Gluten-free  Dairy-free  Vegan
Ingredients:
• 150g (5.5oz) Dairy-Free Dark Chocolate
• 3 tbsp Cacao Powder
• 2 Ripe Avocados, flesh of
• 2 tbsp Vanilla Extract
• 1 tbsp Maple Syrup
• 2 tbsp Real Good Tomato Ketchup
• 160g (5.75oz) tin coconut cream
Method:
1. Slowly melt the chocolate in a heatproof bowl, ensuring it does not burn.
2. Leave the chocolate to cool.
3. Scoop the avocado flesh into a blender and blitz until smooth. Add all ingredients into the processor and blend again.
4. Pour this mix into either 1 large dish or individual dishes and leave to set in the fridge for at least an hour before serving.
5. Top with chopped banana and fresh fruit.
Serving Suggestions:
This recipe is naturally rich and you can add whatever toppings take your fancy. If you're a fruit-lover, then go for some chopped fresh fruits, if you're not allergic to nuts, add some gluten free granola, chopped nuts (if not allergic to) and seeds.
Created by Beth Heddle and Real Good Ketchup