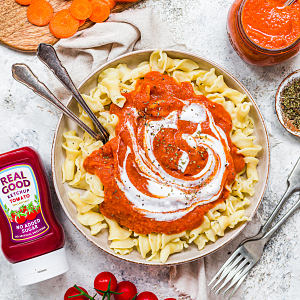 This recipe is a winner with children, parents and all pasta fans. A deliciously nutritious tomato and veggie sauce with your favourite (free from) pasta, rice or quinoa, garnished with a non-dairy (or dairy) cream or yoghurt and your favourite herbs. Stores perfectly in the freezer for weeks, a great go-to for a quick and tasty supper.
Makes: 1 litre /1kg of sauce (use 200g per 100g cooked pasta)
Time to Make: 40 minutes plus cooling
Storage instructions: Eat immediately hot. Store in sealed container in the fridge for up to 5 days or in the freezer up to one month.
Gluten-free  Dairy-free  Vegan
Ingredients:
1 tbsp olive oil
1 white onion, small dice
1 garlic clove, crushed
1 tsp dried mixed herbs (optional)
1 large carrot, peeled and chopped small (100g)
1 red pepper, chopped small
1 courgette, chopped small
1 small sweet potato, peeled and chopped small (150g)
1 x 400g tinned tomatoes (or 400g fresh tomatoes, chopped)
100g Real Good Tomato Ketchup
300ml veggie stock (no or low sodium, or use water)
5 tbsp unsweetened yoghurt (non-dairy or dairy, optional)
Cooked (free from) pasta of your choice  (rice, quinoa or alternative)
Method:
Heat the olive oil in a large pan and add the onion and garlic. Fry for 5 minutes until softening.
Add in the mixed herbs, carrot, pepper, courgette and sweet potato and fry for another 10 minutes until the vegetables are tender. Now pour in the tinned tomatoes, Real Good Tomato Ketchup and stock/water.
Simmer with a lid on for 25 minutes until really soft and then allow to cool slightly before blending to a smooth sauce. You can now choose to blend in the yoghurt, or you can serve on top of the sauce to stir in as you eat.
Cook the pasta and serve through some of the sauce and the yoghurt, if using.
Created by Nourishing Amy with Real Good Ketchup