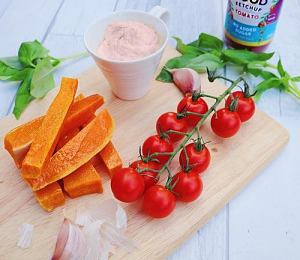 Hummus is one of those perfect BBQ summer foods. It's gluten free, dairy free, vegan…you name it – it's safe from most of the common allergens. The subtle hint of Real Good Ketchup in this smooth garlic hummus will bring your crudities to life in a deliciously healthy way. We have served with Butternut Squash roasted dippers, works equally well with carrot sticks or red pepper, you'll love this dish. For those not eating garlic, delicious without…
Starter Serves: 4 hungry people
Time to Make (including oven time): 15-20 minutes
Storage instructions: Eat immediately or store in fridge for up to 48 hours
Gluten-free  Dairy-free  Vegan
Ingredients Hummus:
3-5 Garlic Cloves (optional)
1 can of Chickpeas (240g drained weight)
4 tbsp Real Good Ketchup (Tomato or Smokey BBQ)
1 tbsp Tahini (optional)
1 tsp Mixed Herbs
1 tbsp Olive Oil
Water
Method:
Place the garlic cloves on baking tray in an oven pre-heated to 180oC. Roast the cloves for 15-20 minutes, check and turn to ensure they do not burn.
Once roasted, drain the chickpeas and add to a blender along with the garlic. Add in the ketchup, tahini (if using), herbs, oil and 1 tbsp water.
Blend until smooth. You may need to add some more water depending on how wet the mix is.
Serve in a small dish with your favourite crudities, breads, nachos or dippers
Serving Suggestions:
Here we have roasted butternut squash dips. To make these simply roughly chop a butternut squash (skin on or off) into chunks and place in the oven with a drizzle of olive oil for 20-30 minutes.
Created by Beth Heddle with Real Good Ketchup