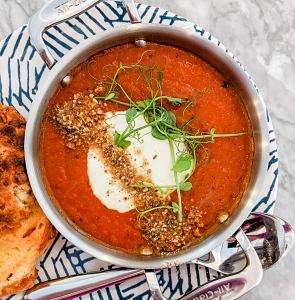 This recipe is THE simplest, yummiest, easiest Squash & Tomato Soup recipe. Using the in-season squash or pumpkin, you'll be able to taste autumn. The flavour of the coriander and chilli flakes with the squash-tomato sauce will leave you wishing you'd made double the batch.
Serves: 4 servings
Time to Make (including oven time): 10 minutes preparation and 30 minutes to cook
Storage instructions: Eat immediately or store in fridge for up to 48 hours
Gluten-free  Dairy-free  Vegan
Ingredients:
2 tbsp olive oil
3 garlic cloves, crushed
1 red pepper, diced
1 squash or pumpkin, roughly 800g (par boiled or pre roasted)
1 large carrot, chopped into cubes
2 cans of tomatoes (combined weight 800g)
1 tsp chilli flakes
1 tsp coriander
Pinch of pepper
100ml vegetable stock
6 tbsp Real Good Ketchup
Method:
Start by dicing the squash. Then lightly fry the garlic and pepper in the olive oil in a frying pan, before adding in the diced squash. Fry for 10 minutes.
Add into the pan the tinned tomatoes and chopped carrot. Add in the remaining ingredients into the pan and boil on a low heat for about 30 minutes, until the pumpkin is cooked and the sauce has begun to thicken.
Top with black pepper and serve with sour cream/vegan cream, quinoa or baked sweet potatoes to really impress your guests.
Created by Beth Heddle and Real Good Ketchup