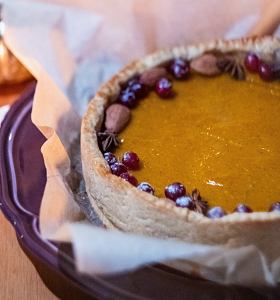 It's Pumpkin Pie season so there is no better way than celebrate by making your own, and not just any old Pumpkin Pie. This one can be enjoyed by ALL of your guests, whether they're gluten free, dairy free, vegan .., you name it, they can have it! This Pumpkin Pie isn't too sweet but the perfect cinnamon flavour that comes through will have you drooling for days.
Serves: 10 Servings
Time to Make (including oven time): 1h 10 minutes
Storage instructions: Eat immediately hot or cold. Eat within 4 days, keep refrigerated.
Gluten-free   Dairy-free   Vegan
Ingredients:
For the pumpkin filling:
450g / 15oz tin pumpkin puree (if you cannot buy this, you can make your own)
290ml / 1 cup almond milk (unsweetened or sweetened depending on how sweet you'd like it)
6 tbsp maple syrup (or alternative sweetener  preferred)
4 tbsp Real Good Tomato Ketchup 
1 tsp cinnamon spice or mixed spices
2 tsp vanilla essence
1 tbsp cornflour
For the pie crust:
25g / 1/8 cup coconut oil
75g / 2/3 cup brown rice flour
60g / ½ cup ground almonds (if you are allergic to nuts, substitute this with 50g brown rice flour)
8 tbsp water
Method:
Preheat an oven to 160oC.
Start by making the filling. First place all of the ingredients in warmed saucepan and mix well. The cornflour must dissolve completely within the mix, so continue stirring until it is completely dissolved.
Boil this mix, stirring continually for 15 minutes. If it forms a lumpy consistency or forms an emulsion, pulse in a food processor for a few minutes and return to the heat.
Leave this on the side to cool.
To make the pastry, combine the flours together and before slowly adding the water and coconut oil. Mix with your hands until a dough is formed. Press this into the tin and blind bake for 8 minutes.
Pour in the pumpkin filling and return to the oven for another 45 minutes until the pumpkin filling does not 'jiggle' or move when lightly shaken.
Optional decorate with cranberries 
Serving Suggestions Serve with non-dairy cream and a glass of mulled wine !       
Created by Beth Heddle and Real Good Ketchup