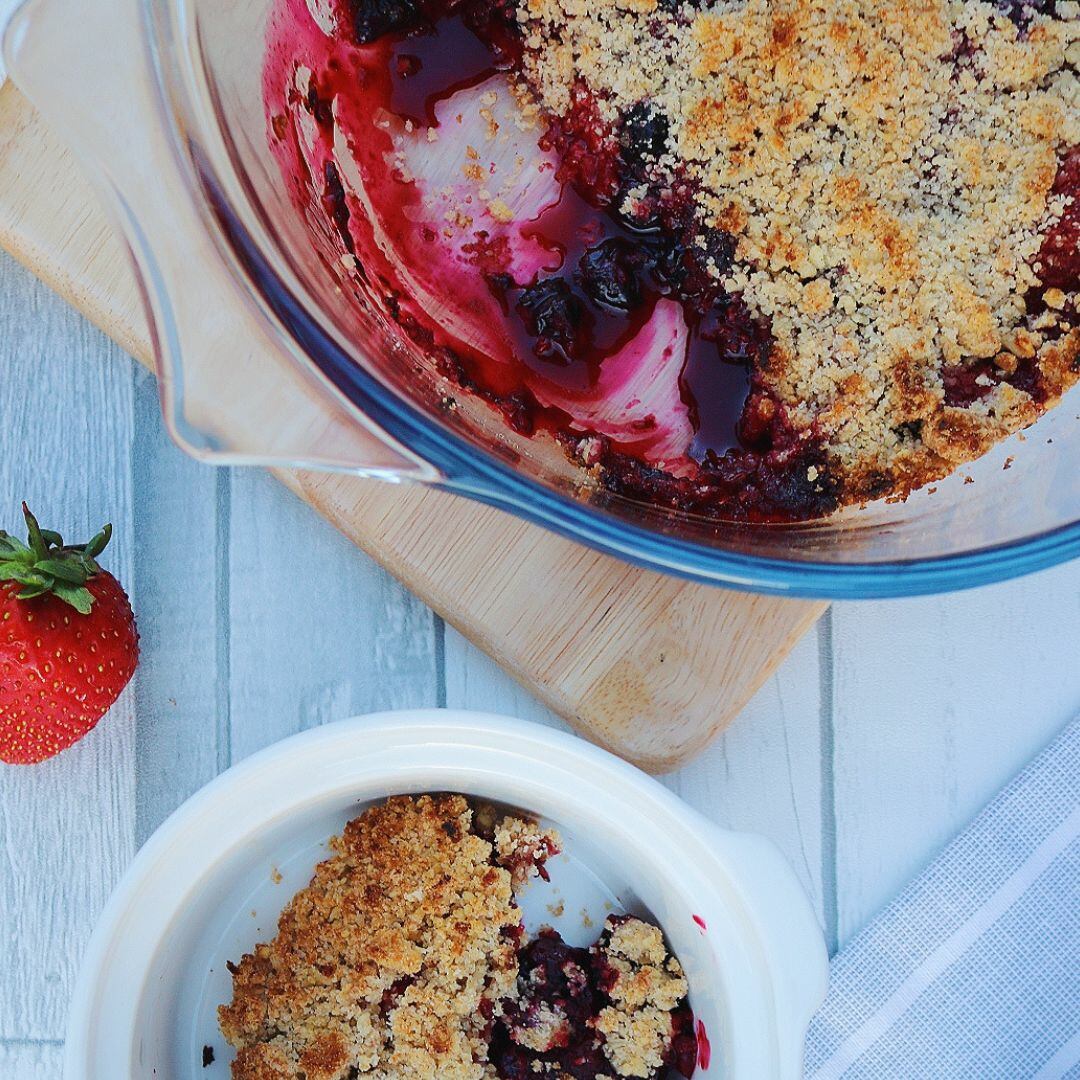 This incredibly simple fruity dessert is a winner throughout the year. It's the perfect way to end a BBQ or any meal and can be made in 1 dish so transport is really easy ! Mix up the recipe and add in apples, or swap the berries and try with peaches and nectarines for a different flavour. The subtle hint of Real Good Ketchup is warming and compliments the fruit…shh…keep it a secret from your friends and let them discover it themselves !
Dessert Serves: 6 fruity friends
Time to Make (including oven time): 30 minutes
Storage instructions: Eat immediately hot or cold. Keep in the fridge and eat within 4 days.
Gluten-free Dairy-free Vegan
Ingredients:
300g frozen berries or fresh berries in season
20g Real Good Tomato Ketchup
60g coconut oil
4 tbsp maple syrup
125g brown rice flour
Method:
Preheat the oven to 200 C.
Place the frozen or fresh berries into a glass oven-proof bowl and mix in with the ketchup. Place in the oven whilst it heats up.
Bring the flour and coconut oil together with your hands until you form breadcrumbs. Drizzle in the maple syrup and stir.
Remove the berries from the oven and sprinkle the breadcrumbs on top evenly. Place back in oven for 20-25 minutes until the topping has just started to go golden brown.
Serve with dairy free ice cream or yoghurt !
Serving Suggestions
This delicious recipe is the perfect end to a Summer BBQ. It's refreshing served with dairy free ice cream, yoghurt and even eaten cold!
For those that love a bit of chocolate try drizzling a little dark chocolate over the top for an extra little kick.  Enjoy !
Created by Beth Heddle with Real Good Ketchup