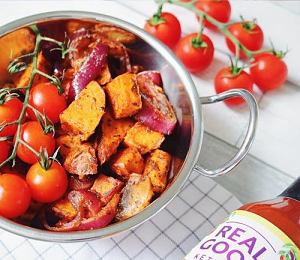 Ever dream of starting your day with a hearty, wholesome breakfast that will give you the energy to set you up for the day ? This is surprisingly quick to make which makes it ideal for both weekdays and weekends ! Delicious sweet potato, mushrooms, onions and tomatoes for a truly plant-based brunch.
Serves: 2 servings for breakfast
Time to Make (including oven time): 20 minutes
Storage instructions: Eat immediately hot, or refrigerate and eat within 2 days
Gluten-free  Dairy-free  Vegan
Ingredients:
• 1 Large Sweet potato, chopped into cubes
• 250g (8.5oz) Mushrooms, chopped
• 2 Tomato trees
• 1 red onion, diced
• 2 Garlic Cloves (optional)
• 4 tbsp Real Good Ketchup (with smoked paprika to taste)
• 1 tsp Basil
• Coconut Oil, for frying
Method:
1. Preheat a frying pan with coconut oil.
2. Place the sweet potatoes in the oven at 180oC with a drizzle of coconut oil and roast for 20 minutes.
3. After 15 minutes, place the diced onion into the pan along with the mushrooms and garlic. Fry until soft (roughly 5 minutes).
4. Add the fried mix to the sweet potato and top with the tomatoes. Mix in the ketchup and basil and put this back in the oven for 10 minutes on a lower temperature (150oC recommended).
5. Remove from the oven and serve!
Serving Suggestions:
I suggest you serve this with a hearty smoothie for breakfast. It's such a versatile recipe that you can add whatever you like to it ¬– why not try adding red pepper and butternut squash?! Make it for the family by doubling the recipe. If you're not vegan, try adding eggs when you place it in the oven for the final time!
Created by Beth Heddle and Real Good Ketchup