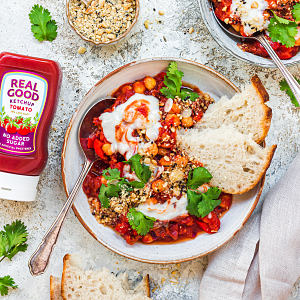 Originally a dish from North Africa, Shakshuka is one of our favourite anytime, all day, nourishing plant-based meals. Easy to make in one pot in 25 minutes and deliciously spicy. A winner for all Chickpea fans. Serve with pitta bread or a gluten-free bread of your choice.
Serves: 3 people
Time to Make: 25 minutes
Storage Instructions: Keep in sealed container in the fridge and eat within two days
Gluten-free  Dairy-free  Vegan
Ingredients:
Olive oil
1 red onion, small dice
3 garlic cloves, crushed
1 red pepper, small dice
½ tsp ground cumin
½ tsp ground coriander
½ tsp smoked paprika
Pinch cayenne pepper or chilli flakes to taste
60g sun-dried tomatoes, chopped
400g tin chopped tomatoes
100g Real Good Ketchup
1 tin chickpeas, drained (drained weight 240g)
Salt and pepper
4 tbsp NUSH Cashew Yoghurt (optional) or Cashew Cream
Serving suggestions: bread/toast (gluten free) or pitta bread, fresh coriander, sliced spring onions, chopped seeds
Method:
1  Heat a wide or frying pan (with lid) with 1 tbsp olive oil and add the onion and garlic. Fry lightly for 5 minutes then add the red pepper and      fry for a further 5 minutes.
2  Add in the cumin, coriander, paprika and cayenne pepper or chilli flakes and fry off for 1 minute until fragrant.
3  Pour in the sun-dried tomatoes, chopped tomatoes, Real Good Tomato Ketchup and chickpeas with some salt and pepper. Bring to the boil, reduce to a gentle simmer and cook with a lid on for 10 minutes.
4  Spoon the plant-based yoghurt on top of the shakshuka and serve with (gluten-free) bread/toast or pitta bread, fresh coriander, sliced            spring onions and some chopped seeds.
Created by Nourishing Amy with Real Good Ketchup