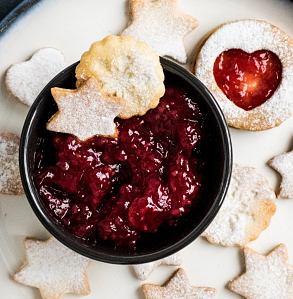 This deliciously simple Cranberry Relish recipe is a winner throughout the festive season and beyond. Complimenting both sweet and savoury dishes you've no excuse not to give it a go. Enjoy this Relish any time of year.
Serves: 2 small jars
Time to Make (including oven time): 45 minutes
Storage instructions: Eat hot or cold. Eat within 14 days.
Gluten-free     Dairy-free     
Ingredients:
280g / 10oz Cranberries (fresh or frozen)
150g / 5oz Raspberries (fresh or frozen)
125ml / ½ cup Maple syrup/agave nectar 
125ml / ½ cup water
30ml / 2 tbsp Real Good Tomato Ketchup
½ orange, zest of
Method:
In a bowl, mash the cranberries and raspberries to a lumpy consistency. Once mashed, add to a heavy-bottomed pan and simmer.
Add the maple sryup and water and simmer for a further 30 minutes.
Add the Real Good Tomato Ketchup and orange zest. Stir thoroughly.
Remove from the heat and leave to cool in a sterile jar.
Store in the fridge.
Serving Suggestions Serve this on the side as a relish or with some delicious puds!
Created by Beth Heddle and Real Good Ketchup