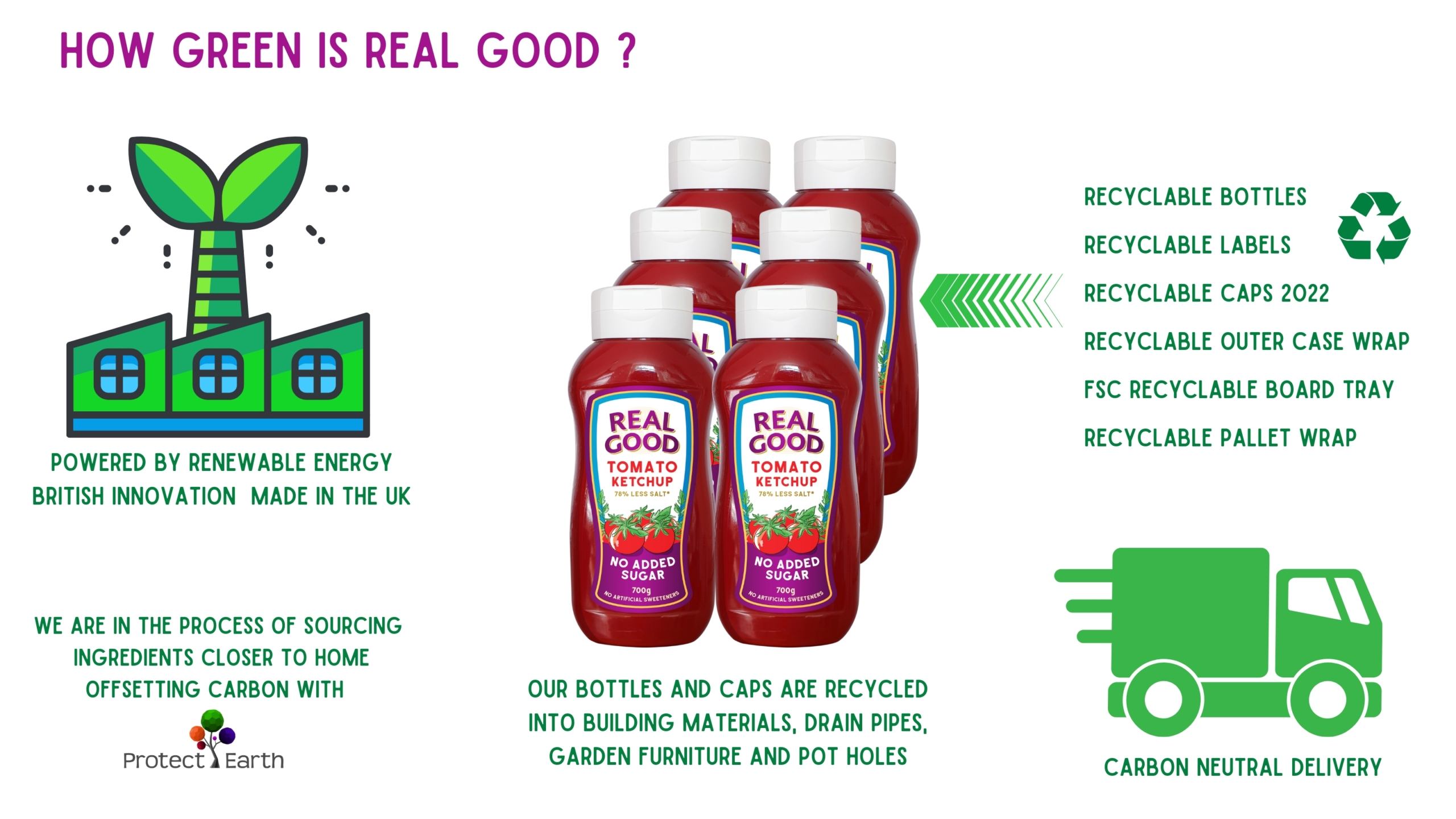 What sustainable steps are we taking ?
Our business and food production site are powered by renewable energy, based here in the UK
All Real Good products are Packed for the Planet in recyclable squeezies made with 40% recycled material
Recyclable caps used on all products
Our clever squeezies find their 2nd recycled life in building materials, drain pipes and pot holes
All outer packaging is recyclable from our FSC certified board trays to pallet wrap
No animal derived ingredients are in our recipes or supply chain, when we say plant-based – we mean it !
To offset our carbon footprint further we have joined the Ecologi platform to plant more trees and restore natural habitats here and around the globe.
Important to do – please wash out both bottle and cap (and put back on the squeezy) after use before putting into your local recycling. No need to remove the labels, they too are recyclable.
As Winner of the Clean Eating Award, our ingredients are always free from the 14 listed food allergens, free from artificial sweeteners and preservatives and always plant-based. We have no animal ingredients in our supply chain.
FAQs
Do you have a refillable option?
We do for catering and food service. A refillable pump must be stored in a fridge overnight, washed thoroughly and cleaned on a daily basis.
What else is sustainable about Real Good?
Well we see sustainability is both for the planet and people. Sustainable health is very important to us, which is why we only use 'clean' allergen free ingredients (no hidden preservatives), remove added sugar, reduce salt and deliver on TASTE. Your health matters!
When we have a surplus or stock to share, we give to The Trussell Trust , who do a fantastic job providing food and support for those in need.
Our delivery service with DPD is carbon neutral ! Please share this good news and encourage others to switch to 100% carbon neutral deliveries.
What about glass?
We have glass in our business too. In the UK currently about 60% of glass is recycled, the rest goes into landfill. We can all increase this by washing out used glass bottles and containers, put the caps back on and put into your local glass recycling. Unwashed bottles are picked out as contaminated and may not be recycled. For more on recycling glass in the UK visit Recycle Now .